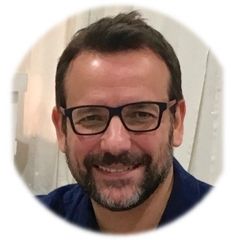 Prof. Andrea Guzzetta
Andrea Guzzetta is a Full Professor at the University of Pisa, Italy. He is Head of the Unit of Child Neurology and Neurorehabilitation and Head of SMILE research Lab of the Stella Maris Scientific Institute in Pisa. He is a Senior Tutor of the General Movements Trust since 2009. His main research has focused on cerebral palsy, starting from the effects of early brain damage on the development of cortical functions and the underlying neuroplastic mechanisms, with the final aim to improve early intervention paradigms and outcomes.
In his research career he has provided some significant contribution to a number of research questions in the area, thanks to his compound training experiences in some of the most productive centres in the field, including the Hammersmith Hospital and the Visual Development Unit in London (Great Britain), the Department of Child Neurology in Tuebingen (Germany) and the Queensland Cerebral Palsy and Rehabilitation Research Centre (QCPRRC), The University of Queensland, in Australia.
Prof Guzzetta received the prestigious Heinz Prechtl Award for Developmental Neurology in 2012.